And how do I identify PFAS-free Packaging?
PFAS, per- and polyfluoroalkyl substances, are a class of more than 5,000 'forever chemicals.' They are called forever chemicals because they have been found to never break, even in a composting environment. PFAS are in just about everything—from firefighting foam, jeans, pots and pans, makeup, to the water we drink.
Exposure to PFAS increases the risk of cancer, cholesterol levels, high blood pressure, and more. It is harmful to us and our environment.
The best way to identify PFAS-free products is to confirm if the product in question is third-party certified by the Biodegradable Products Institute (BPI) or Compost Manufacturers Alliance (CMA). In order to get this certification, compostable products must be verified PFAS-free, alongside other rigorous tests to confirm their compostability.
PFAS-free, BPI-certified Better Earth products include our Clarion Molded Fiber Collection, mineral paper, cutlery, food containers, and single-wall hot cups.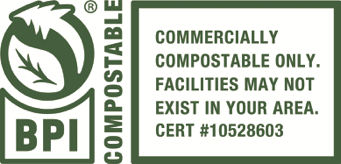 For more information on PFAS, check out our PFAS 101 Blog Post and Webinar.